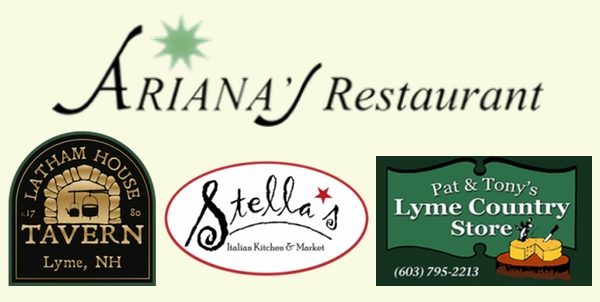 Did you know that there are several dining options around the Lyme, New Hampshire, town green?
Of course, there is Ariana's Restaurant at the Lyme Inn. Chef Martin's passion for food is showcased in signature dishes on the Ariana's Favorites menu and in nightly additions, which include locally sourced, seasonal offerings.
Latham House Tavern offers hearty American fare and worldly comfort foods at affordable prices for lunch and dinner.
Stella's Italian Kitchen and Market offers morning coffee and pastries and takeout pizza, paninis, and more from the market as well as an Italian dinner menu in its cozy dining room.
And the Lyme Country Store provides nourishment as well: ingredients to make your own meals as well as prepared foods. Open every day, they offer soups, deli sandwiches, fresh baked goods, salads, prepared Thai dishes (on Fridays), and more.
Come enjoy historic elegance and contemporary luxury in a casual country setting at the Lyme Inn and enjoy Lyme's dining options!